Insurance & Financial Services
We are committed to helping residents assess their immediate and long-term needs and choose options that will help them achieve their goals.

Here at Northshore Insurance, we custom build your auto policy to provide coverage that meets your needs. Although limits, deductibles, and other factors may vary on your policy, your coverage will likely include a combination of several or all the following types of coverage:
Liability
Liability insurance is required for motorists in Wisconsin. We typically recommend more coverage than the minimum limits, as you can be held financially and legally liable for any injuries or property damage you cause while operating your vehicle. Whether you hit a pedestrian, collide with another car, or run into someone's fence, your liability insurance helps cover the costs.
Collision
Collision insurance is coverage for damages to your vehicle in a car accident. Whether you collide with another vehicle or with an object, you are responsible for paying only a deductible. Insurance takes care of the rest.
Comprehensive
Like collision, comprehensive pays for damages to your vehicle. However, the damages must have resulted from an incident other than a car accident. Comprehensive claims might include damages from a hailstorm, a fire, or some other covered event. It can even provide compensation for your vehicle if it is stolen.
Uninsured/Underinsured Motorist
The odds of being hit by an uninsured driver are probably greater than you think. Uninsured motorist insurance helps cover your expenses if you are injured in an accident by an uninsured, at-fault driver. Similarly, underinsured motorist insurance helps bridge the gap between your injuries and the insufficient limits on an at-fault driver's liability insurance.
Medical Payments
If you or your passengers are injured in an accident, medical payments provide automatic coverage for medical expenses regardless of who was at-fault for the accident.
Rental Car Reimbursement
If you need to have your vehicle repaired or replaced after an accident, this type of coverage can help you cover the cost of temporary transportation.
Towing and Assistance
Whether you lock yourself out of your vehicle, hit a nail going down the highway, or need to have your vehicle towed after an accident, your insurance can help cover the cost of labor and assistance, 24-hours a day.
How do you protect the most important things in your life? Your home is one of your most valuable investments. Make sure you protect it with comprehensive home insurance that protects your property form corner to corner.
All homeowners policies in Wisconsin are "package" policies that include multiple types of coverage. These generally include:
Dwelling
Dwelling insurance is coverage for your home and the other structures on your property, such as a fence, shop, or pool house. Since your home is one of, if not the biggest purchase you will ever make, make sure your dwelling insurance provides enough coverage to protect it against the things that threaten it.
Personal Property
Personal property insurance is coverage for your belongings. Whether a thief robs your home while you're on vacation or part of your home is damaged in a kitchen fire, personal property insurance helps cover the replacement of your belongings, from furniture and electronics to clothing, appliances, and more.
Personal Liability
Personal liability insurance helps cover your financial liability if you, your pet, or one of your family members causes an injury or property damage to another person in a non-auto related accident. Personal liability insurance coverage typically starts with limits of $100,000, but additional coverage may be available if you have valuable assets or income to protect.
Medical Payments
Medical payments cover medical bills of individuals who are injured in your home or on your property. It does not cover members of your own family, but it does provide payment of reasonable medical expenses up to the limits on your policy, regardless of who was at-fault.
Additional Living Expenses
You may one day find yourself in need of temporary lodging if your home is severely damaged in a covered loss. In these circumstances, your additional living expense coverage can help pay for the cost of your hotel or rent while your home is being repaired.
At Northshore Insurance, we never want you to settle for less coverage than you need. We understand the needs of Wisconsin residents and work hard to find affordable home insurance without cutting corners. We can even find additional savings with discounts like:
Claims-free discounts
Home safety discounts
Home and auto bundling discounts
New home discounts
And more

Condo insurance is coverage for condominium owners who want to protect their personal belongings and cover the parts of their unit not covered by the condo association's master insurance policy. Condo insurance is much like homeowners insurance in that it provides coverage for the internal structure of your condo and your possessions, and it also provides a layer of liability protection.
Renters have many options when it comes to choosing a home. Whether you choose an apartment, duplex, townhome, or house, make sure you and your belongings are sufficiently protected. Here at Northshore Insurance, we make searching for renters insurance easy with one-stop-shopping from a local, trusted agent. Our goal is to find the coverage you need at a rate you can afford, a small cost to pay compared to how much you could otherwise stand to lose.
Personal Umbrella Insurance
You already have liability insurance through your home and auto insurance, maybe even your boat, motorcycle, or ATV insurance too. Even with the maximum coverage limits on those policies, you still may be financially vulnerable if you are hit with a major lawsuit. A Personal Umbrella Policy (PUP) provides an extra layer of protection on top of the liability coverage you already have, to help fill in the gaps left behind by your home, renters, auto, and other insurance policies.
If you are not sure if you could benefit from a Personal Umbrella Policy, we here at Northshore Insurance can work with you to evaluate your coverage needs. We can help you assess the value of any assets that might be at risk in a lawsuit, such as the equity in your home, your personal savings, money earmarked for a child's college education, cash put aside for retirement, and non-essential physical assets, such as a second car or boat. Consider, also, that a Personal Umbrella Policy can provide additional liability protection not available through other types of policies. This typically includes coverage for slander, libel, false arrest, landlord liability, and liability when traveling overseas.

Motorcycles are fast, fun, economical, and versatile. They are also risky. The hazards riders face out on the road are much different than those experienced by drivers of other types of vehicles. If you prefer the sound of a cruiser to a sedan or the look of a sport bike to a sports car, make sure your coverage is ready to keep up the pace. Wisconsin law requires motorcycle riders to purchase a minimum amount of coverage.
Boats and watercraft of all sizes need to be insured with adequate coverage. If you operate your boat without the right insurance, you could be putting yourself, your boat, and your financial future at risk. Here Northshore Insurance, we help Wisconsin boaters find the coverage they need to protect against the unexpected. Before you take the jet skis out to the lake or head out for some fishing on, make sure your boat insurance has the power to keep your head above water.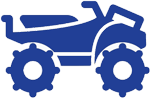 Help protect yourself and your all-terrain vehicle against the unexpected. We offer bodily injury liability coverage and property damage liability coverage on your ATV insurance policy.
If you injure someone else or damage their property while driving your ATV, liability coverage helps pay the other person's medical or repair bills. If your ATV is damaged in a crash, collision coverage may help.
Collision coverage for your ATV helps pay for repairs if you hit another object, such as a fence or a tree. Finally, you may want to consider comprehensive coverage for your ATV in case it's stolen, vandalized or damaged by hail or fire.
Give me a call to get a quote on an ATV insurance policy today!
Protect the life you want, for those that matter most. A life insurance policy can help provide financial security for your loved ones by covering expenses like the mortgage, college tuition, and other everyday living costs.
Call me today to learn about the different types of coverage Allstate offers.